Introduction:
Upgrade your exterior styling with the ECS Tuning Carbon Fiber Side Blade Set.
This carbon fiber side blade set was engineered and designed in-house to add a more sporty appearance to your vehicle that matches with the factory appeal of the B9 A4 and S4. Our inspiration for these came from the earlier B6/B7 S-line door blades that would flare out more towards the rear edge of each blade. Keeping the same style in mind, we carried those characteristics into the new ECS Carbon Fiber Side Blade Set. An exclusive design only available through ECS Tuning, this side blade set will be sure to catch attention and turn heads. Each side blade is crafted of high-quality hand laid carbon fiber to achieve it's world class appearance and durability and provides an aggressive and sporty style that's sure to set your vehicle apart from the rest.
For help with installation, please review our instructional PDF available under the Installation tab on this product page.
To compliment the look of your new diffuser, check out the ECS Carbon Fiber Trunk Spoiler, Diffuser, Front Lip, and Grille Accents, only available from ECS Tuning.
*Installation on vehicles without factory side blades will require custom modification by the end user. We DO NOT recommend installing the side blades with only adhesive tape.
Required Tools:
• Heat Gun
• Non-Marring Trim Tool
Installation:
Remove the original:
Each original side blade is held on by five clips and one strip of adhesive tape along the top edge.
Start at either end and carefully use a heat gun to release the adhesive tape and a nonmarring trim tool to lift the side blade from the body.
Work your way down the side, using heat as required, and pulling the side blade off the body studs as you go.
Remove any remaining adhesive tape from the car and clean the entire rocker panel.
Installing the new carbon fiber side blades:
Each new side blade will be installed using 5 new clips (included) and one strip of adhesive tape that is already installed on the top edge of the side blade.
Place the new side blade onto a soft towel so you do not scratch the front side, then push five new clips into the holes in the back.
Using an alcohol pad, wipe the full length of the rocker panel along the top edge to remove any wax or oily residue.
NOTE: the wider end of the side blade goes at the rear of the car.
Pull the protective strip off the adhesive tape, align the new side blade over the five studs on the body and push it into place. Hold pressure for a few seconds along the entire length of the side blade to help the tape to stick.
Installation is complete.
Interested in purchasing?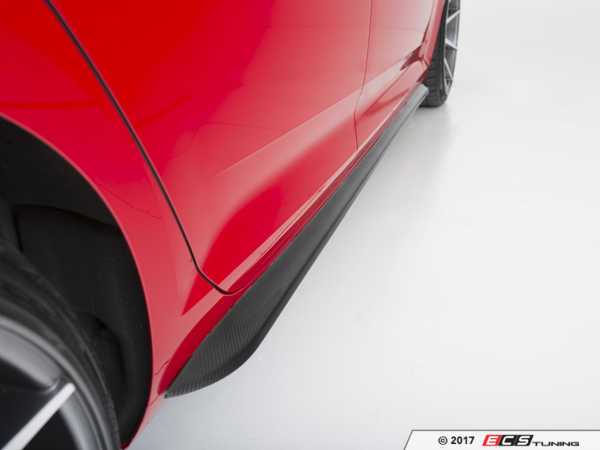 Carbon Fiber Side Blades
Add a touch of style made with real carbon fiber to your Audi